Alessia Ricciardi
Professor of Italian and Comparative Literature; Director of the Program of Comparative Literary Studies
BA, University of Pisa; DEA (master's degree), Paris VII; Ph.D. Yale University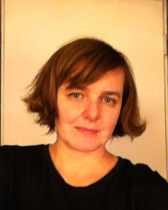 (847) 491-8259
Crowe 2-133, 1860 S Campus Drive
Alessia Ricciardi is the Herman and Beulah Pearce Miller Research Professor in Literature. She is the director of Comparative Literary Studies and is affiliated with the German Department. She has a BA in philosophy from the University of Pisa, a DEA (master's degree) from Paris VII in psychoanalysis, and a Ph.D. in comparative literature from Yale University. Her main interests are French and Italian contemporary literature, cinema, political philosophy, psychoanalysis, and gender studies.

Her first book, The Ends of Mourning, was published by Stanford University Press in 2003 and won the MLA's 2004 Scaglione Prize for Comparative Literature. Her second book, After La Dolce Vita: A Cultural Prehistory of Berlusconi's Italy, was published by Stanford in 2012 and won the MLA's 2013 Scaglione Prize for Italian Studies.

Her third book, Finding Ferrante: Authorship and the Politics of World Literature, which was published by Columbia University Press in 2021, assesses the questions of pseudonymous novelist Elena Ferrante's identity and authorship in the context of contemporary world literature, with particular emphasis on the rarely noticed importance of German literary and cultural influences (e.g. Goethe, Christa Wolf, and Walter Benjamin). It was awarded the 2021 American Association of Italian Studies Book Prize in the category of Literary Studies.

Her next book project explores the epistemological, racial, and environmental concepts of reparation in dialogue with the psychoanalytic notion of reparation that organizes Melanie Klein's theory and clinical practice. At stake in this investigation are not only the psychosocial dimensions of reparation but ultimately the too little examined tension between fantasy and justice.

Ricciardi is a co-organizer with Isabelle Alfandary of the Summer Institute of Psychoanalysis, a cooperative effort between the Sorbonne-Nouvelle and Northwestern University that annually unites an international cluster of universities to explore the impact of psychoanalytic thought on culture as expressed by other branches of knowledge as well as media in the broadest sense of the word from literature, cinema, and performance arts to social media. Ricciardi and Alfandary also are in the process of co-authoring a book-length study of the literary, cultural, and psychoanalytic aspects of seduction in the era of the #MeToo and #TimesUp movements.

Her essays have appeared in, among other publications, PMLA, Modernism/Modernity, Modern Language Notes, The Romanic Review, and diacritics. Her most recent articles are about works by Pasolini, Antonioni, Foucault, Deleuze, and Agamben.

At Northwestern, she has taught courses such as "Fashion and Modernity" and "Antonioni's Cinema," at the undergraduate level and "Agamben in Context" and "Desire, Pleasure and their Politics" at the graduate level.