Nasrin Qader
Associate Professor of French and Comparative Literature; Chair of the Department of French and Italian
PhD, University of Wisconsin-Madison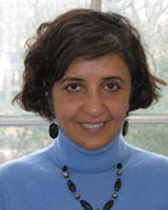 (847) 491-8263
Crowe 2-129, 1860 S Campus Drive
Nasrin Qader is Associate professor of French and Comparative Literary Studies, holding a PhD from the University of Wisconsin-Madison. Trained as a comparatist, Qader consistently brings together Francophone African literature, Arabic literature of the Maghreb, Islamic thought and mysticism, and contemporary literary and visual theory. In 2009-2010, she was awarded a New Directions Fellowship by Andrew W. Mellon Foundation, which allowed her to study the religious and literary traditions of India, a training that has enriched her research and teaching. Nasrin Qader has written on the work of North and West African writers such as Mohammad Barradah, Abdelkébir Khatibi, Abdelfattah Kilito and Tahar ben Jelloun of Morocco; on Yasmina Khadra and Mohammed Dib of Algeria; on Moussa Ouled Ebnou of Mauritania; and on Boubacar Boris Diop of Senegal. Her first book, Narratives of Catastrophe: Boris Diop, ben Jelloun, Khatibi (Fordham University Press, 2009) studies the relationship between récit (narration, story) and catastrophe. She is currently in the final stages of completing her second book titled "Chance at Play: Fiction and Indeterminacy According to Mohammed Dib, Camara Laye, Khady Sylla" where she pursues the implications of the presence of games of chance in literary works. Qader also works on contemporary Persian literature from Afghanistan. She has published on the photographic dimensions of the writer and filmmaker, Atiq Rahimi's novella Khakestar o Khak (1998) (Earth and Ashes [2002]) in Modern Philology as well as on play in two short stories by Asef Soltanzadah in Journal of World Literature.
Qader has presented her work in venues within the US and internationally. She has been invited to give lectures at Ecole des Hautes Etudes (EHESS), and Ecole Normale Supérieure-rue d'Ulm, in Paris, as well as in the US. Currently, she serves on the editorial board of the African Arts and Humanities Series of Michigan State University Press.
Qader's teaching interests include the detective novel; contemporary literary writing in French, Arabic, and Persian; contemporary literary and visual theory and in particular the works of Maurice Blanchot, Jean-Luc Nancy, Jacques Derrida, and Abdelkebir Khatibi. More recently, she has turned her attention to game studies and the problem of determinism as relevant to the literary. In the summer of 2012, she participated in the Institute for World Literature organized by Harvard University and Bilgi University, Istanbul, exploring the theoretical and methodological underpinnings of this method of literary inquiry from which she draws in her writing and teaching. Nasrin Qader is an active member of the core faculty of the Program in Comparative Literary Studies and the Program of African Studies. She is also a Chevalier de l'Ordre des Palmes Académiques.
She is the current Department Chair.
Back to top