Cynthia Nazarian
Associate Professor of French; Affiliated Faculty of the Program in Comparative Literary Studies; Director of Undergraduate Studies in French
B.A., Columbia University; M.A., Ph.D., Princeton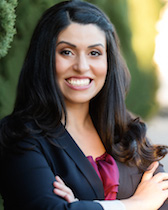 (847) 491-8270
Crowe 2-137, 1860 S Campus Drive
Cynthia Nazarian is Associate Professor of French and Affiliated Faculty of the Program in Comparative Literary Studies. She received her B.A. magna cum laude in Comparative Literature and The Creative Writing Program from Columbia University, and her M.A. and Ph.D. in Comparative Literature from Princeton University. Her research explores figurations of violence in early modern French, English and Italian literature, analyzing the rhetorics of suffering and brutality that shape sovereignties of the early modern Self and State.
Nazarian is the author of Love's Wounds: Violence and the Politics of Poetry in Early Modern Europe (Cornell University Press, 2016), which investigates widespread metaphors of violence in early modern French, English, and Italian literature. Through its comparative, inter-genre studies of Petrarch and five major Petrarchan poets of the sixteenth and early seventeenth centuries (Maurice Scève, Joachim du Bellay, Agrippa d'Aubigné, Edmund Spenser and William Shakespeare), Love's Wounds shows how they actively transformed love poetry into a powerful tool for defining the nation and for reflecting on and shaping state authority. Her second book project, Violent Sympathies: Literature, Sovereignty and the Hazards of Fellow Feeling brings together early modern literature and contemporary political theory to examine the challenges posed by sympathy for state authority and legitimacy. Violent Sympathies brings the early modern period into conversation with the twentieth and twenty-first centuries to show not only how often literature is political, but also how often politics is literary.
Nazarian's articles have been published in Cultural Critique, The Oxford Handbook of Montaigne (Philippe Desan, ed.), Modern Philology, Montaigne Studies, Modern Language Quarterly, and Metamorphosis: The Changing Face of Ovid in Medieval and Early Modern Europe (Alison Keith and Stephen Rupp, eds.).
Nazarian is the recipient of numerous awards and fellowships, including the Monticello College Foundation Long-term Fellowship at the Newberry Library (2018-2019), the Kaplan Institute for the Humanities Faculty Fellowship (2017-2017), the Public Voices Thought Leadership Fellowship (2017-2018) and the Barbara Thom Postdoctoral Fellowship at the Huntington Library (2012-2013). She was awarded Northwestern University's Weinberg College of Arts and Sciences Distinguished Teaching Award in 2011-2012.