Doris L. Garraway
Associate Professor of French
Ph.D. Duke University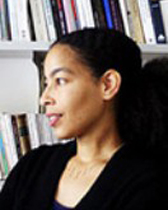 (847) 491-8255
Crowe 2-134, 1860 S Campus Drive
Doris L. Garraway is associate professor of French at Northwestern University. Her research and teaching interests include Francophone Caribbean literature and historiography from the seventeenth to the twentieth centuries, the Haitian Revolution, early modern French cultures, gender and slavery, postcolonial studies, law, and performance. She is the author of The Libertine Colony: Creolization in the Early French Caribbean (Duke UP, 2005; reprint 2008), and editor of Tree of Liberty: Cultural Legacies of the Haitian Revolution in the Atlantic World (University of Virginia Press, 2008). She has published articles on a range of authors including Marie Chauvet, Aimé Césaire, Patrick Chamoiseau, Denis Diderot, Baron La Hontan, Moreau de Saint-Méry, and Haitian revolutionary figures Toussaint Louverture, Jean-Jacques Dessalines, Henry Christophe, and Baron de Vastey. She is currently completing a book manuscript entitled Liberty's Majesty: Print, Performance, and Theopolitical Sovereignty in the Haitian Kingdom of Henry Christophe. Garraway has been awarded fellowships from Princeton University's Davis Center for Historical Studies, Northwestern's Kaplan Center for the Humanities, the National Humanities Center (declined), the John Carter Brown Library (declined), and the Schomburg Center for Research in Black Culture (declined). She chaired the Department of French and Italian from 2019 to 2022, and she was named the Herman and Beulah Pearce Miller Research Professor at Northwestern for 2011 to 2014.

Professor Garraway has given lectures at numerous universities in the U.S. and abroad, including the University of Uppsala (Sweden), the University of Pennsylvania, the University of Michigan, the University of Washington, the University of Iowa, and Penn State University. She has also given keynote addresses at conferences in the U.S. and abroad.

A dedicated teacher and graduate advisor, Professor Garraway has directed dissertations on various topics including gender in Haitian literature, anticolonialism and nationalism in far right-wing French literature and thought, trauma in twentieth-century Haitian literature, education in Francophone African and Caribbean literature, migration in Francophone Caribbean literature and film, and memory in North African literature. She served as Director of Graduate Studies in French from 2005 to 2011, and as Director of Undergraduate Studies from 2013 to 2017.