Christopher Bush
Associate Professor of French and Comparative Literature
Ph.D., UCLA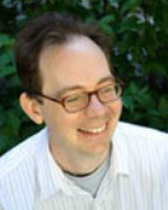 (847) 491-5493
Crowe 2-135, 1860 S Campus Drive
Christopher Bush (Ph.D. in Comparative Literature, UCLA) is Associate Professor of French and Comparative Literary Studies.
His research and teaching focus on transnational and interdisciplinary approaches to literary modernisms, especially the interactions between Euro-American and East Asian aesthetic theory, avant-gardes, and media. He co-directs the graduate cluster Global Avant-garde and Modernist Studies at Northwestern and is Co-Editor of the journal
Modernism/modernity
including its
Print Plus
platform.
Past honors include a Fulbright research grant, the Bernheimer Memorial Prize for Outstanding Dissertation in Comparative Literature, the Cotsen-Behrman Fellowship in the Princeton Society of Fellows, the Aldo and Jeanne Scaglione Prize for a Translation of a Literary Work, and a Mellon New Directions Fellowship.
He has published in such edited volumes as
A New Vocabulary for Global Modernism
(Columbia, 2016),
Ezra Pound in the Present
(Bloomsbury, 2016),
The Modernist World
(Routledge, 2015),
Modernism and Theory: A Handbook of Modernist Studies
(Blackwell, 2013), and
Drawing from Life
(Mississippi, 2013). Previous publications include
Ideographic
Modernism: China, Writing, Media
(Oxford, 2010); articles in such journals as
Comparative Literature
,
Comparative Literature Studies
, and
Representations
; and a collaborative translation and critical edition of Victor Segalen's
Stèles
(Wesleyan, 2007). His currently completing
The Floating World: Modernism's Japan
for Columbia University Press.
He teaches a range of undergraduate and graduate courses, primarily focused on modernist literatures of the early twentieth century, the historical avant-gardes, and critical theory, including "The Avant-gardes in the World," "Time, History, Media: Chris Marker," "The Surreal World," "Bergsonism and Global Modernism," and "French Hegel."
Back to top