Katia Viot-Southard
Associate Professor of Instruction in French
PhD, Washington University in St Louis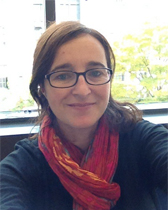 (847) 467-0899
Crowe 2-171, 1860 Campus Drive
Katia Viot-Southard is an Associate Professor of Instruction in French. She holds an MA in French and a PhD in French Language and Literature from Washington University in St Louis. Her dissertation entitled "Représentations de la condition féminine à la fin du XIXe siècle: Les ambivalences du théâtre au féminin" offers close readings of plays from women writers in 19th-century France. She has presented conference papers and written articles on women and the theater.


Katia is currently the coordinator for the Intermediate French level sequence (French 121). She teaches and supervises French 121 working closely with other faculty members and graduate students. Interested in news media and French popular culture, she frequently teaches an Advanced French Grammar course (French 301) that she has developed around authentic resources focusing on current issues and debates in France. She has also created a new course at the Intermediate level titled "Acting French" (French 204) that uses performance as a mean to improve students' language skills.


Interested in foreign language pedagogy and methodology, she has participated and presented papers on her research and course development at many conferences on the teaching of foreign languages.


Katia is an active member of the Council on Language Instruction (CLI) at Northwestern and a faculty fellow at the International Studies Residential College (ISRC).