Patricia Scarampi
Associate Professor of Instruction in French
Ph.D., Universidad Autónoma de Madrid (Spain)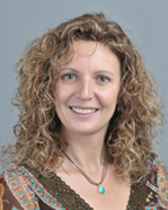 (847) 467-3685
Crowe 2-117, 1860 S Campus Drive
Patricia Scarampi was born in the south of France. She received her Ph.D. in Applied Linguistics from the Universidad Autónoma de Madrid (Spain). She also earned a Licence in Spanish Philology from the Université de Nice (France), a Licenciatura in French Philology from the Universidad de Barcelona (Spain) and a Masters in Translation and Interpreting from the Universidad de Alicante (Spain).
She has published articles on Foreign Language Pedagogy and Translation. She is also the co-author of the Spanish Textbook A que sí published by De Agostini Scuola.
Her interests are in Foreign Language Pedagogy, Second Language Acquisition, Applied Linguistics, Phonetics and Sociolinguistics.
Patricia currently teaches different language and culture courses, a French Phonetics course, a Foreign Language Teaching course and is also responsible for the pedagogical training and supervision of the Teaching Assistants. She is a member of the Council on Language Instruction (CLI).
Back to top