Fay Rosner
Associate Professor of Instruction in French; Weinberg Advisor
PhD, University of Chicago; B.A., B.S., University of Illinois at Urbana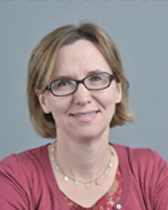 (847) 491-8916
Crowe 2-138, 1860 S Campus Drive; 1908 Sheridan Road (Office of Undergraduate Studies & Advising)
Fay Rosner (PhD, University of Chicago) holds a joint appointment as a Weinberg College Adviser and Associate Professor of Instruction in French. Since arriving at Northwestern in 2007, she has taught second-year language courses, the French writing workshop, the oral workshop, and a first-year seminar on Proust and the arts. She previously served as a Faculty Fellow in the College of Community and Cultural Studies. She has presented her work, with colleague Christiane Rey, on interdisciplinary approaches to language learning at The American Association of Teachers of French national conference, and at The Language Symposium at the University of Chicago. More recently, she presented at a teaching workshop for graduate students at the University of Chicago's Center for Teaching on designing and teaching the introductory course.

Her literary research focuses on the relationship between sociology and art in the work of Marcel Proust. She has twice presented her work at the Nineteenth-Century French Studies Conference, most recently a paper on Baudelaire's conception of the dandy as interpreted by Proust. Previous work includes talks at an international conference on "Proust and His Era," hosted by the University of Illinois at Urbana, and at the Philosophy and Literature workshop at the University of Chicago.
While completing her graduate studies at the University of Chicago, she was awarded a Whiting Dissertation Fellowship as well as the Backus Prize in French Language and Literature. She holds a B.A. in French with highest distinction, and B.S. in psychology from the University of Illinois at Urbana, and also studied at the Sorbonne during her junior year in Paris.
Back to top