Aude Raymond
Professor of Instruction in French
MA, University of Illinois at Chicago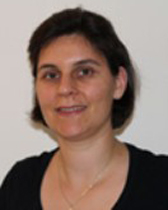 (847) 467-3929
Crowe 2-125, 1860 S Campus Drive
Aude Raymond, Associate Professor of Instruction in French, received an MA in French literature from the University of Illinois at Chicago, where she also taught French. As a native from the east of France, she is interested in inter-cultural experience. Her work centers on teaching language and culture and on technology-enhanced language learning.
French Placement and Proficiency Adviser, Aude Raymond also serves on the Language Proficiency Committee since 2011, and is an active member of the Council on Language Instruction. Fellow of the International Studies Residential College since 2004, she co-sponsors the Table française with her colleagues Margaret Dempster and Katia Viot-Southard.
The courses she has been teaching include: First Year Introductory French 111, Second Year Intermediate French 121, Intensive second-year French 125, French 201 Culture and Society, French 202 Writing Workshop: Cultural Encounters in Contemporary France, French 301 Advanced Grammar and Fr309 French for Healthcare Professions.
Currently Aude Raymond is developing a second-year flipped French course with her colleagues Christiane Rey and Patricia Scarampi, for which they received two Provost Digital Project grants as well as Hewlett grants.
Back to top