Marie-Thérèse Pent
Associate Professor of Instruction in French
M.A., Université de Grenoble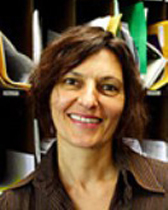 (847) 467-0833
Crowe 2-179, 1860 S Campus Drive
Marie-Thérèse Pent, Associate Professor of Instruction in French, comes from an Alpine plateau near Grenoble, France and holds an M.A. in French literature from the Université de Grenoble.
She is the coordinator of French 201 Introduction to French Studies, French 203 Oral Workshop and French 303 Advanced Conversation.
She has been the recipient of an Arts and Sciences Alumni Teaching Award in the Weinberg College of Arts and Sciences in 2012-2013.
She has been the recipient of the Faculty Honor Roll, Associated Student Government, Northwestern University in 2013-2014, 2012-2013, 2010-2011, 2009-2010 and numerous times before.
Since the fall of 2007, she has organized the French Ciné-Club, showing 4 films per quarter.
She is the editor of Rosa la Rose, the French and Italian literary magazine.
Her primary interests are modern and contemporary French culture and the performing arts. She also is a painter.
Back to top