Paola Morgavi
Professor of Instruction in Italian; Director of the Italian Language Program
Laurea, University of Genoa; MA, School of the Art Institute of Chicago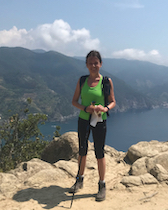 (847) 491-8265
Crowe 2-143, 1860 S Campus Drive
Paola Morgavi, Professor of Instruction and Director of the Italian Language Program, holds a Laurea in Lettere from University of Genoa, Italy, and an MA in Art Education from the School of the Art Institute of Chicago.
Morgavi is a certified OPI tester in Italian, with extensive training in foreign language education and curriculum development. In 2012 she co-authored with Elvira G. Di Fabio (Harvard University) a course called "Advanced Training for Teaching Italian as a Foreign Language." In 2013 she designed a workshop on behalf of the American Council on the Teaching of Foreign Languages (ACTFL) called "Supporting Language Learners to Reach Higher Levels of Performance."
From 2012 to 2016 she served as higher ed co-chair of the AP Italian Language and Culture Development Committee and from 2016 to 2020 she served as Chief Reader of the AP Italian Language and Culture Exam. Also, she is a member of the Osservatorio della Lingua Italiana at the Consulate General of Italy in Chicago.
Interested in studying the impact of technology on teaching and learning, she has been researching the integration of media and technology in the language curriculum. In spring 2012, as a participant in the WCAS iPad Project, she designed and taught "Conversation in Italian" with the iPad.
At Northwestern Morgavi teaches language and culture courses.
She is a member of the Language Proficiency Committee (LPC), of the Language Faculty Development Committee (LFDC), and of the Council on Language Instruction (CLI). Also, she collaborates with the Office of Fellowships and serves as a Fulbright Faculty Advisor (FFA).
She has been named to the ASG Honor Roll in 2010-2011, 2011-2012, and 2014-2015. In 2014 she was awarded the Premio Dante from the American Association of Teacher of Italian (AATI)- Midwest Chapter, for her service to the Italian language teaching community both at local level and nationwide.