Massimiliano L. Delfino
Assistant Professor of Instruction in Italian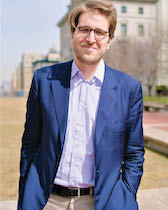 847-467-1987
Crowe 2-149, 1860 S Campus Dr
Massimiliano L. Delfino (Italian, Ph.D. Columbia University). He earned his B.A. in Comparative Literature from "La Sapienza" University of Rome, and his Ph.D. in Italian Studies and Comparative Literature from Columbia University.
His research focuses on post-World War II Italian political cinema and literature. He uses film theory, literary theory and critical theory to shed light on the nexus between the aesthetic and the political. He is currently working on a book manuscript that analyzes representations of terrorism in Italian films and novels of the 1970s and their relationship to the concept of "civility." Other publications include "A Cinematic Anti-Monument against Mafia Violence: P. Diliberto's 
La mafia uccide solo d'estate
" published in 
Annali d'italianistica
 (2017) and "Reaffirming the Author: Gesualdo Bufalino's 
Calende greche
and Autofiction between Sadism and Masochism," 
Italica 
(2021)
. He has presented his research at several international conferences in the USA and in Italy.
Massimiliano has taught various levels of Italian at UNC-Chapel Hill, Columbia University and Ca' Foscari in Venice. For his excellence in teaching, he was awarded the Chancellor's Excellence in Teaching Award (SUTA) at UNC-Chapel Hill, and was a finalist for the Presidential Award for Outstanding Teaching at Columbia University. His classes have a strong cultural component, and his interests in language pedagogy include intermediality in language classes, intercultural communicative competence, and diversity and inclusion. He is a trained Microteaching Facilitator and in this capacity worked for Columbia's Center for Teaching and Learning. 
Back to top