Daniele Biffanti
Assistant Professor of Instruction in Italian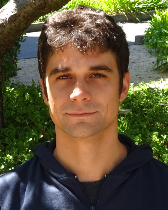 Crowe 2-159, 1860 S Campus Dr
Daniele Biffanti, Assistant Professor of Instruction in Italian, earned his B.A. in Modern Literature and M.A. in Modern Philology from the Università degli Studi di Padova, and his Ph.D. in Italian from Stanford University.

Daniele has taught several courses on Italian language and culture at Stanford University and Bard College. While at Stanford he also worked as a Resident Fellow at Casa Italiana, and was a Dissertation Fellow at the Stanford Humanities Center. He holds an ACTFL Full Certification as OPI Tester in Italian.

His methodology in both lower- and upper-level language courses is based on a communicative and proficiency-oriented approach. Striving to weave genuine cultural materials into language classes, he seeks to provide students with a nuanced and current understanding of Italian culture, beyond its traditional and stereotypical elements.

His research focuses on post-WWII literature, cinema, and political history, and second language acquisition.  He is currently working on a book manuscript that considers how the founding myth of the Italian Republic - the resistance against Nazi-Fascism and subsequent liberation - has generated different narrative legacies in literature and cinema, and how the development of these legacies in the 20th and 21st century can be traced and interpreted as a form of narrative mythologization.
Back to top