Margaret Sinclair
Distinguished Senior Lecturer Emerita of French
B.A., University of Toronto; Ph.D., University of California, Berkeley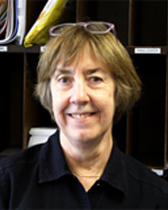 Margaret Sinclair, Distinguished Senior Lecturer, Emerita, in French, holds a B.A. in Latin and French (with a Greek minor) from the University of Toronto and a Ph.D. in Romance Philology from the University of California, Berkeley. She has taught intermediate and advanced language, especially composition and translation, and has authored a Grammaire du français : Manuel pour le niveau 200. Her main interests lie in the pedagogy of second-language writing, particularly in the use of technology to enhance the learning process. Thanks to a Hewlett grant in the summer of 2004 and the expert aid of a summer MMLC intern, she created several animated PowerPoint presentations of grammatical points of particular difficulty for Anglophones (an ongoing project). Another interest has been in the developing of methods to guide students over the "bridge" between language and literature classes.
She was named to the ASG Faculty Honor Roll (1996-7, 2007-8) and was awarded the Arts and Sciences Alumni Teaching Award (2003-2004). She has also advised students as the French section's Director of Undergraduate Studies (2003-2006).
Long involved in study abroad, Sinclair served on and chaired the University Study Abroad Committee. She directed and taught in Northwestern's Summer Program in Arles (now run by IES), and previously served for many years as the study abroad adviser for French.
For several years she co-chaired the Council on Language Instruction (CLI) sub-committee which organizes regular workshops intended to enhance the professional development of all language faculty and has presented at various CLI symposia and workshops.
From 2004 to 2008 Sinclair served as Master of the International Studies Residential College, which houses 100 students, representing many countries and disciplines, who share a passionate interest in all languages and cultures. As Master, she advised the student Executive Board and supervised the academic programming in the college.
Back to top