Marie-Simone Pavlovich
Distinguished Senior Lecturer Emerita of French
M.A., Geneva, Switzerland; Ph.D., Northwestern University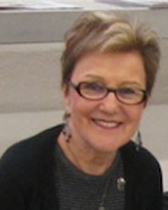 Marie-Simone Pavlovich (M.A. Education, Geneva, Switzerland; Ph.D. French literature, Northwestern University) is a Distinguished Senior Lecturer Emerita. As coordinator of the 300-level language classes, she taught advanced classes in conversation, grammar, phonetics, business French; as Freshman Advisor for several years, she taught a Freshman Seminar on the topic of the psychology of the meal in French literature and film. She was –and still is- a Faculty Fellow at Willard Residential College. Being very interested in language pedagogy, she produced, with the help of a Hewlett Grant, a web interface entitled Français à Dire et à Chanterused in the phonetics class. However, her primary interests lie in "gastro-literature" (food in literature from a psycho-sociological point of view), and literature of Switzerland, particularly by women.
As a member of the Executive Committee of the American Association of Teachers of French (AATF), she was involved in immersion programs and in the coordination of programs such as the Enrichment Day for High School Teachers of French. For 13 years she also was the Director of the Grande Dictée de la Francophonie, a spelling competition open to all Francophiles and Francophones in Illinois that took place at Northwestern. The competition was a highlight event over 9 years at the Annual Congress of the American Association Teachers of French, the last one having taken place in Chicago in 2012. She lectured on that topic at various meetings and conventions, as well as on the representation of food in painting.
She is the recipient of the AATF Dorothy B.Ludwig Excellence in Teaching Award -post secondary (AATF/National)- and of the Prix du Chapitre for Excellence in Teaching (niveau universitaire). She was named Chevalier dans l'Ordre des Palmes Académiques by the French Ministry of Education in 1998 and was promoted toOfficier in 2009. She is an Honorary member of the AATF.
Her story appeared in a book written by a Swiss journalist, Susann Bosshard-Kälin:Westward: Encounters with Swiss-American women (German version 2009; English version: 2010). The book chronicles the joys, sorrows, pains, and achievements of 15 Swiss women living in the States.
In August 2012 she was interviewed by the Swiss National Television within the frame of a series of portraits of Swiss having immigrated to different countries; she was the person selected for the United States.
Her current projects include writing on various aspects of gastro-literature and painting.
Back to top