Giulia Guidotti
Senior Lecturer Emerita of Italian
CSWA, University of Florence; M.Ed., The American University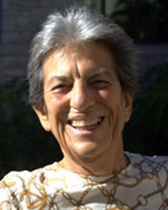 Giulia Guidotti is a Senior Lecturer Emerita in the Department of French and Italian and taught elementary and intermediate Italian at Northwestern since 1997. Her effective teaching methods earned her nomination to the Faculty Honor Roll in 2004. She taught "Intensive Italian" a total immersion language program and "Italian Children Literature" which combined modern Italian history with literature. She developed and edited the first "On-line Placement Test" for the Italian Department.
Giulia Guidotti earned her CSWA in Social Work from the University of Florence, Italy, and her M.Ed. in Counseling from The American University, Washington DC.
For ten years Guidotti was Italian Language and Culture Instructor, Certified Tester and Examiner at the Foreign Service Institute, State Department, Washington DC.
In 2001-2002 she established, co-directed the School Year Abroad Program in Viterbo, Italy and created the Italian language department.