Maïté Marciano
Visiting Assistant Professor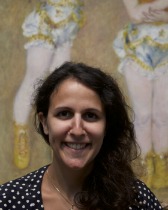 (847) 467-3881
Crowe 2-155, 1860 S Campus Drive
Maïté Marciano is a Visiting Assistant Professor affiliated with the French department and Comparative Literary Studies program at Northwestern University. She earned a Ph.D. in Comparative Literary Studies from Northwestern University in June 2022 and a master's degree from the Center for Research in Modern European Philosophy at Kingston University in the United Kingdom.

She specializes in twentieth- and twenty-first-century French and Francophone literature, with an emphasis on affect theory, critical theory, cultural studies, intellectual history, and diasporic studies.


She is currently working on her first book project based on her dissertation, "The French Novel at the Trial of Disaffection," which examines works by Albert Camus, Marguerite Duras, Jean Echenoz, and Michel Houellebecq among others, to recount a history of french literature from the Vichy period until the end of the twentieth century.  She has also begun to work on her second project under the working title, "Affective Belongings in the Global South: Jewish and Black Emigrant Writers in Marseille," in which she seeks to rethink the center of modernity from Paris to Marseille and the Mediterranean. She considers Marseille as a cosmopolitan center for Jewish Sephardi Francophilia and a site of exile for African and African-American authors throughout the interwar era and beyond.

She has recently published the article "L'absence et le neutre; analyse d'un écart entre Camus, Duras, et Blanchot" (La Revue des Lettres Modernes, 2022) and has presented her research at several venues, including but not limited to the "Affect and the Emotions" workshop at the University of Chicago, the ACLA, and the International Colloquium in French and Francophone Studies. Further research and teaching interests include Performance Studies, Jewish Francophonie, and Mediterranean Studies through the Global South.
Back to top